"When I was 19, I thought it would be a great idea to to jump into the pool… from the roof of my house. Luckily, I made made my target, but I hit my head on the bottom of the pool. I have been using Kelosoft for 2 weeks now. Not bad at all."
– Christian 24​
"Hello,
I wanted to share my personal comments about Kelosoft. I have been using Kelosoft Natural Scaring Cream for 90 days now since having seriously broken both wrists in an accident falling off a ladder as I needed immediate surgery with titanium plates added to both wrist to support the healing process. My incisions were about 15cm each with some very scary looking scars after the 1st casts were replaced two weeks after by surgery by my orthopedic surgeon. What a scary sight it was for me to see. Once the 2nd and final casts were removed after 8 weeks, I immediately started applying Kelosoft natural scarring cream every night and the surgical scars were virtually not noticeable, including the nasty scar that I got over my left eye brow with the accident, which I was very worried about would be there for the rest of my life. The gentle natural scent of Kelosoft was not medicinal at all and was a very soothing product that never stung, nor was there any sort of burning at all, yet I could feel the scar was slowly every day gradually diminishing before my very eyes. I was also very happy to hear back from many of friends and family who saw me at the hospital and could not believe my recovery from a very serious accident that could have been far worse. Thanks to Kelosoft for really making a huge difference to my scar and emotional healing process. I would highly recommend this fantastic new natural scar cream as it was a pleasure to use each day, especially as I had to take so many other meds during and after my surgery and it was so nice not to take another drug. Moreover, when I showed the two scars to my orthopaedic surgeon after 90 day on this week follow-up, she was simply amazed at the healing and scarring results of my wrists along with physiotherapists team.
Many thanks to you for bringing this outstanding, high quality new natural product to Canada, as I would have never imagined these types of scar healing results would be evident in such a short period of time. I will continue to use Kelosoft for the rest of 2016."
–DEE
​
"I wish there was 100 stars, this product is beyond amazing! My scars faded drastically after 3 weeks.

One more week and they'll be gone!"
-Asha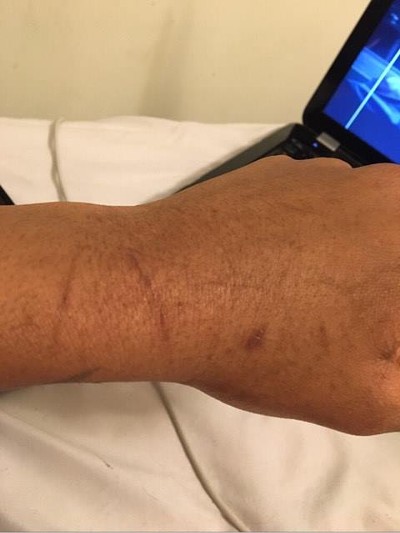 "Love this! Scar= GONE! Thanks so much. This is a game changer."​
-Paulina
"Great product. Been using it for 2 months and my scar is basically gone!!!"
-Justine​
"My friend told me about this cream. I didn't believe her, but it's been working for me so far. I've been using it on my leg scar and my wife uses it for stretch marks. I know the packaging says scar, but it works for stretch marks too. Good price ($24). In my opinion the box it comes in should be more descriptive, if my friend wouldn't have told me, I wouldn't have known it works for stretch marks."
–Brendan​
"I can't believe it. This is the cream my grandma gave me when I was visiting in Switzerland! I used it two years ago on my elbow. I just saw an ad for it on Facebook - haha perfect timing too, I have a new one on my knee."
-Amber​
"After my divorce and post kids i felt gross. Started using it on my stretch marks a month ago and they are faded already, i hope it gets rid of them ALL. Can't wait for the beach now. I'm going to look like i did when i was 20 and make my ex regret he ever left me for that floozy!!!"
-Kimberlay​